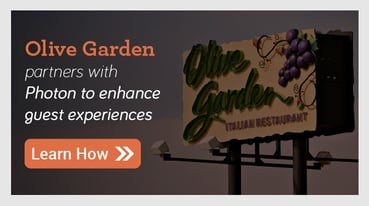 4. Reassess mobile apps and apply more app-oriented UX
Across the restaurant landscape, mobile apps will deliver user experiences which are continuous, ambient and omnichannel. Restaurants need to have comprehensive mobile app strategies to fully and effectively satisfy their customers' needs. These proven techniques can be used to identify new opportunities, validate existing ones and discover entirely new digital business models.
Photon's Integrated approach for next-gen guest experience
At Photon we look to challenge the status quo on the usage of mobile in restaurants by creating business outcome journey maps to identify and explore the opportunities that will fulfill restaurant's broader strategic plans. Photon has teamed up with leading Fortune 100 brands to drive
digital transformation for their restaurant chains.
The enhanced features have given the guests increased convenience and control while creating
frictionless personalized experiences
.
To learn more about how global restaurant brands have embraced digital to improve overall brand presence and to develop comprehensive digital strategies that drive world-class guest experience, talk to us.